New orders & financials so far in 2023
In Q1/23, XTPL generated revenues of PLN 3 million from sales of products and services, representing a significant year-on-year growth of 219.9%. Revenues from grants amounted to PLN 605k (compared to PLN 689k in Q1/22). The gross margin stood at 60.4% (compared to -29.4% in Q1/22). After accounting for operating expenses of PLN 2.2 million, XTPL achieved an EBITDA of PLN 78k (compared to a loss of PLN -2.4 million). Net income improved from a loss of PLN -2.7 million in Q1/22 to a loss of PLN -301k.
During this year, XTPL announced five contracts for the sale of Delta Printing Systems, all of which were sold to Chinese clients. Additionally, two contracts were signed for printing modules, with buyers including HB Technologies, a supplier of machines for testing and repair of displays for companies like Samsung Display and Beijing BOE Display. Furthermore, a large US-based NASDAQ-listed producer of machines for the semiconductor industry (likely Lam Research Corp., with a market cap of USD 82.3bn and yearly sales exceeding USD 17bn) also purchased printing modules. According to sources such as Pocket-lint and 4kfilme, Samsung Display delivers 80 million OLED displays solely for the iPhone 14 and produces over 100,000 Quantum Dot (QD)-OLED displays for TVs each month. In our view, considering that more than 10% of these displays typically have defects, this demonstrates the significant commercial potential for XTPL.
Issuance of new equity and debt for capacity expansion and building of local sales teams
XTPL announced its intention to issue up to 275,000 new shares on May 12th, which will finance approximately 50% of the planned investments amounting to PLN 60 million from 2023E-26E. The remaining funding will come from own funds, grants, and new debt. The equity issue, in which the CEO and founder also intends to participate, is expected to be completed this week. Our research indicates that debt financing has already been secured.
According to discussions with management, the PLN 60 million will be allocated towards several initiatives, including:
Expanding the production capacity of printing modules from the current level of less than 10 per year to 100 per annum (which would correspond to yearly sales of EUR 7.5 million/PLN 33.75 million).
Increasing the production capacity of prototyping machines, specifically the Delta Printing System, from currently more than 10 units to more than 20 units per year (e.g., 20 units would equal yearly sales of EUR 3.5 million/PLN 15.75 million).
Quadrupling the yearly production of nanoinks.
Establishing local sales offices with demonstration labs primarily in the US and Asia, a strategic move to accelerate the acquisition of new clients.
Hiring additional staff and continuing research and development activities.
Expected boost for XTPL's business from Intel's new factory near Wroclaw
Moreover, XTPL is expected to benefit from Intel's new factory near Wroclaw, announced on June 16th. The US semiconductor giant's investment of USD 4.6 billion/PLN 18.4 billion in a new factory for semiconductor integration and repair in Miekina, approximately 30 km from Wroclaw, is the largest foreign investment in Poland to date. Given that semiconductor and display repairs align with XTPL's technology applications, Intel could become a potential client for XTPL.
Our forecasts for 2023E-26E imply a revenue CAGR 2022-26E of 60.2% and a target EBITDA margin of c. 40%
We have constructed a financial model for XTPL that extends until 2026E and takes into account the latest information provided by the company's management. Our projections are slightly more optimistic than the company's own guidance, which anticipates sales of PLN 100 million in 2026E.
What sets XTPL's business model apart is the increasing number of Delta Printing Systems and Printing Modules being sold, which will drive recurring revenues from consumables and inks. This will ultimately result in substantial double-digit EBITDA margins.
While we initially anticipated a net profit for the current fiscal year (2023E), we now believe that planned investments, such as the establishment of local sales teams in the US and Asia, will likely lead to a negative net income. However, we are highly optimistic that 2024E will mark XTPL's first profitable year.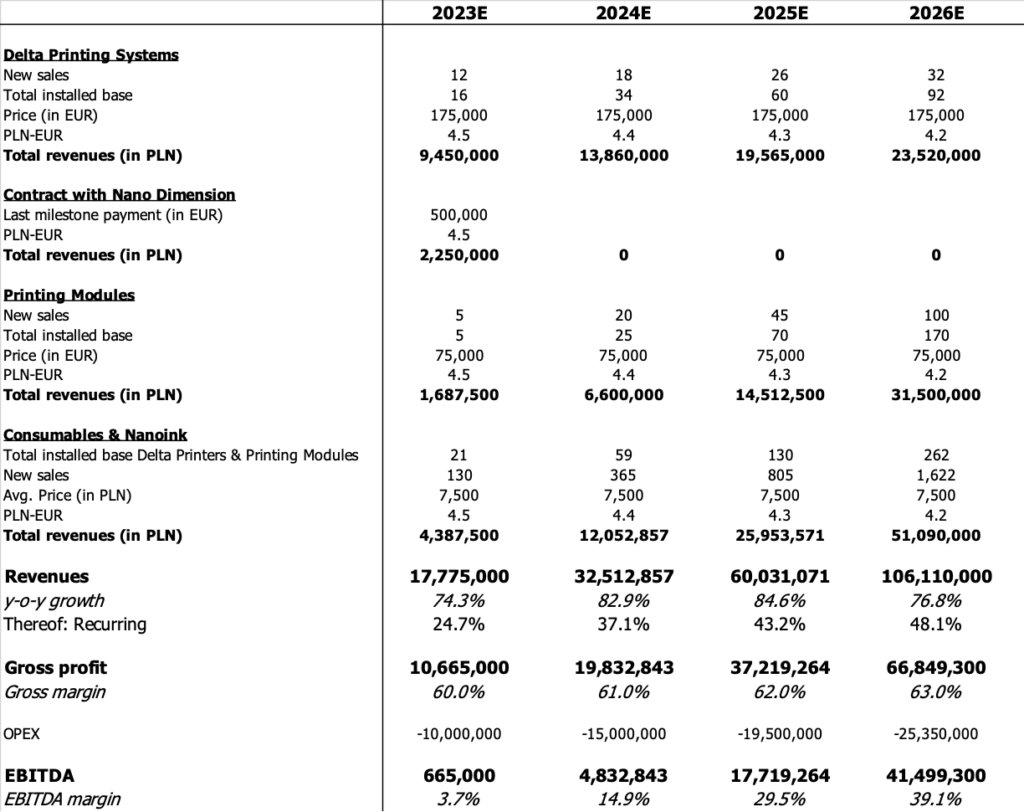 Conclusion
In conclusion, XTPL's technology commercialization appears to be on track, as promised by CEO and founder Filip Granek. The demand for the company's products is evident from major international research facilities and industry players. Furthermore, with a significant share of high-margin recurring revenues expected to exceed 48% by 2026E, XTPL's commercialization model holds significant appeal.
We have confidence in our estimates, projecting a sales CAGR of 60.2% from 2022 to 2026E, along with target EBITDA margins of approximately 40%. For only one of their projects, industrial clients such as HB Technologies or Lam Research could potentially purchase up to 100 printing modules, which will need to be replaced after 5 years. As production volumes increase, these modules will generate a rapidly growing stream of recurring revenues from consumables and nanoinks, resulting in a significant operating cash flow for XTPL.